Fort Worth, Texas, June 05, 2018 – The American Recovery Association (ARA) and the National Automotive Finance Association (NAF Association) are excited to announce the results of their first joint effort to establish a minimum compliance standard for third-party repossession vendors.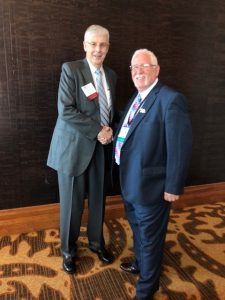 Together with a working group of NAF Association bank and finance company members, the leadership of ARA has sought to address the lack of standardization of compliance programs by setting forth the following goals:
Create a set of baseline criteria for NAF Association members to use in the oversight, management, and auditing of recovery agents.
Produce a standard list of compliance requirements for recovery agents to help them satisfy all of their clients.
Streamline the process of 3rd party management for recovery agents specifically, resulting in lower costs for all parties.
"We want to create a significant solution for both sides of the auto-lending and recovery industries," said Jack Tracy, executive director of NAF Association, "I look forward to our continuing relationship and mutual problem-solving."
The resulting baseline standards encompass the key areas of vendor compliance:
Owner / Business Regulatory Reviews
Training
Policies & Procedures
Vendor Site Visits
"Achieving efficiency in the compliance and education platforms will be a monumental accomplishment for the industry and is something we have been striving to achieve for so long," said Dave Kennedy, president of ARA, "It will eliminate costs and enable both sides to better utilize human resources. I am confident that, by working together, our associations can develop more programs that create major cost efficiencies for both memberships."
For more information about ARA, its partnerships, and its member benefits, please visit repo.org.
About National Automotive Finance Association
The National Automotive Finance Association (NAF Association) supports its members and the industry with education, research, and information. Programs include Annual Below-Prime Auto Finance Conference; workshops and webinars; annual Below-Prime Automotive Financing Survey; Standards of Financial Reporting; and Code of Responsibility for the industry.
About American Recovery Association, Inc.
American Recovery Association (ARA) is the world's largest association of recovery and remarketing professionals. ARA members specialize in locating and repossessing collateral on behalf of lending institutions, including banks, savings institutions, finance companies, credit unions, rental/leasing companies, and auto, truck, and equipment dealers. ARA is a nonprofit association whose members serve 27,000 national and international cities. All members are certified independent business operators. For more information, call 972.755.4755 or visit the website at www.repo.org.